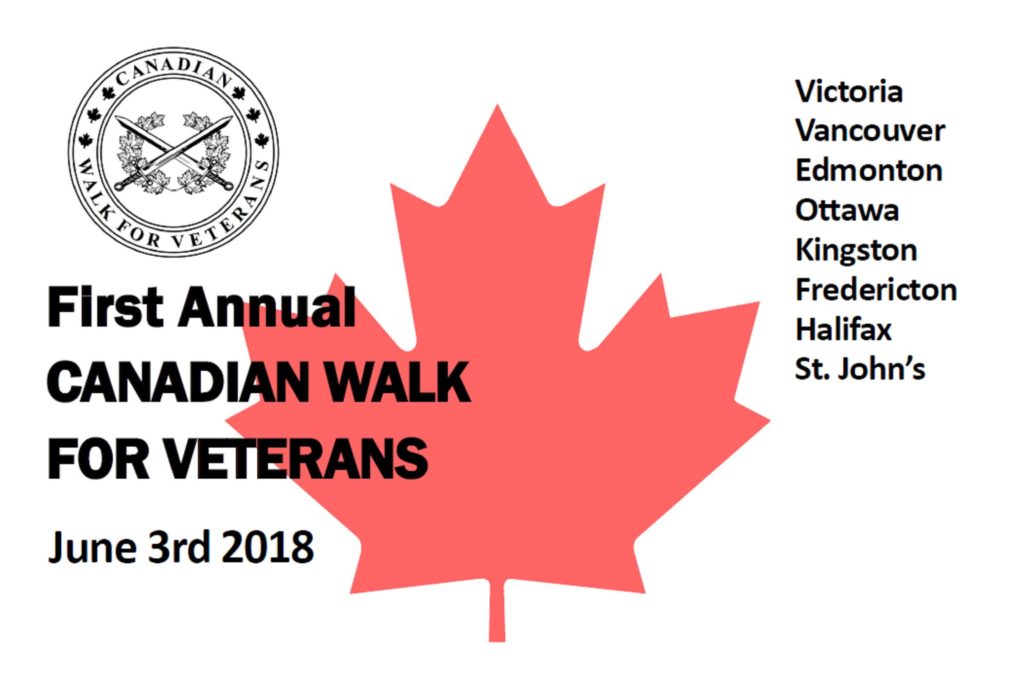 When you walk in the Canadian Walk For Veterans you lend your voice to a collective declaration by Canadians across this country who pay tribute to the men and women who have served in Canada's military and sacrificed to provide us all with a safe and secure homeland. This is an opportunity to get to know veterans in a fun, informal way and walk shoulder to shoulder with those who stand on guard for thee.
The first Walk for Veterans was held in October 2017 in Central Park, Burnaby, BC with over 200 participants. This year, the walk has expanded nationally to a total of eight cities across the country: Victoria, Vancouver, Edmonton, Ottawa, Kingston, Halifax, Fredericton and St. John's. Veterans from each of the eight cities will also participate in a national broadcast of the walk, which will be streamed live.
The mandate of the Canadian Walk for Veterans: to unite individual veterans across Canada, giving them a powerful voice to inspire and promote ongoing advocacy that significantly influences the policies, benefits and actions that shape and impact our veterans' destinies. The ultimate goal is that the annual event will take place in every major city across the country for generations to come.
Registration fee is $25.00 to cover the cost of the national event.
Fun For The Whole Family
Bring the kids and make a day of it. 
The Canadian Walk For Veterans is free for kids. 
Every walker will receive a commemorative coin
as a keepsake of the first every
Canadian Walk For Veterans
Win Free Tickets With Flair Air
Each of the 8 Canadian Walk For Veterans locations

will have a draw to win free round trip tickets

for two to anywhere in the Flair Airlines system.

To enter all you have to do is register and come out and Walk For Veterans. One entry per registrant.