News and Information on Latest Events
December 11, 2013: Press Conference with Equitas Society
More News and Information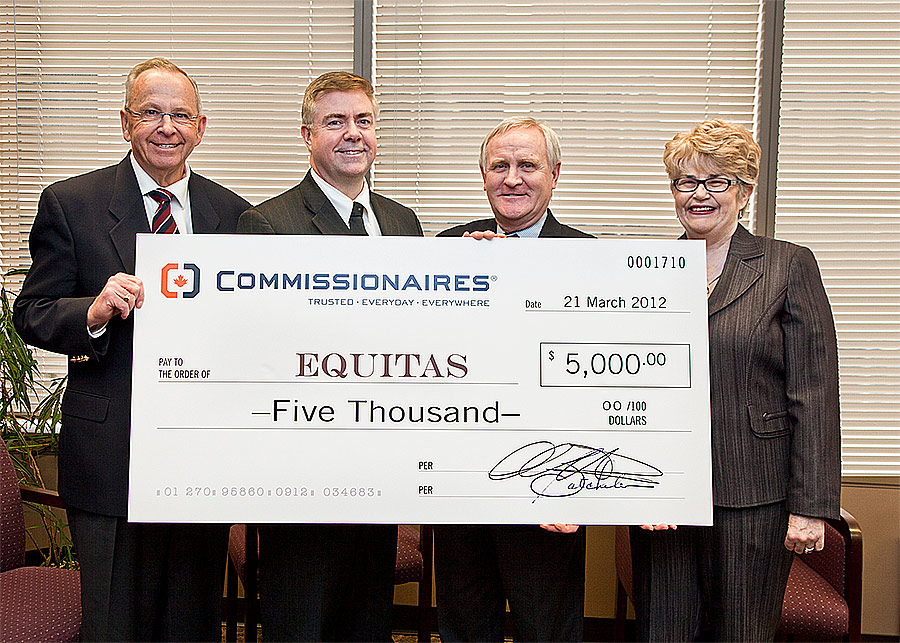 Commissionaires BC donates $5,000 to help support disabled soldiers – March 21, 2012
On behalf of Commissionaires BC, Frank Richter, Board Chair and Allen Batchelar, CEO donated $5,000 to the Equitas Society in Vancouver on 21 March 2012. Jim Scott, President of Equitas gratefully accepted the contribution, noting the funds will be used to help support disabled soldiers who are seeking changes to the manner in which disability and pension payments are awarded to new veterans. "Equitas is an upstanding Society with an extremely worthy cause," says Allen Batchelar.
"This donation exemplifies the evolvement and broadening of Commissionaires' mandate," says Allen Batchelar. "For 85 years we have been providing meaningful employment to veterans. While we will always welcome veteran employees, our vision has now evolved and expanded to include supporting those who serve and have served." Commissionaires BC will continue to make donations such as this one and actively support other worthy causes that support those who serve and have served our country. For more information about Commissionaires BC go to www.commissionaires.bc.ca.
Jim Scott, President and founder of Equitas Society is passionate about making sure injured soldiers receive disability benefits which are similar to other federal and provincial government employees. He has dedicated a significant amount of time and energy to this cause and says, "On behalf of Equitas Society and all disabled soldiers, we would like to express our gratitude to Commissionaires BC and all other supporters of this very important cause."
From left to right: Frank Richter, Board Chair, Commissionaires BC;   Jim Scott, President, Equitas Society; Allen Batchelar, CEO, Commissionaires BC; Heather Garrison, Director, Equitas Society.